A well thought out welcome bag for your out of town wedding guests is an essential part of not only the wedding experience but of true southern hospitality! Your friends and family are often traveling great distances to travel with you and it is important to show your gratitude! We know the big day is all about you and your honey, but we also know there wouldn't be much or a party without your guests! So, shower & pamper them with a little something to show them how much you care.
There are SO many super fun things you can include in a welcome bag, basket or box. Below, I'm giving you a must-have list, as well as a few extras that are fabulous.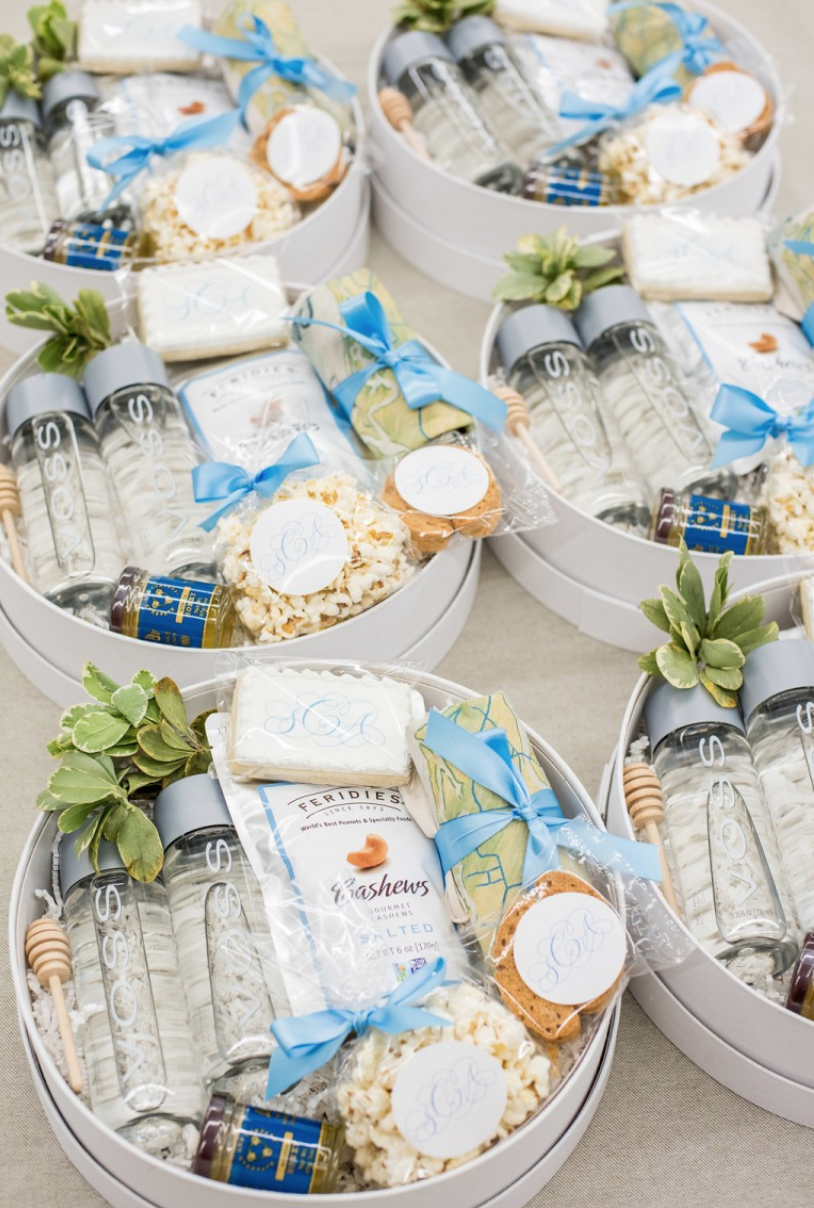 Here is what your wedding welcome bags should include
I'll break this down into three important categories for you!  First, before I forget… although a paper bag will do just fine, you can really have fun with the vessel! From monogrammed tote bags to colorful boxes, what you put your welcome kit goodies in for your arriving guests sets the stage for the event!
Helpful Information:
A map, instructions for how to get from their accommodations to the venue, important contact phone numbers (think everything from shuttle services, rental cars, uber vs. lyft, to contact information for your planner or members of the family that have agreed to help coordinate guests)  and a little extra information about the surrounding area is a must! For guests who have never been to the area, this is a great opportunity to share where they can go to get the true Nashville experience!
Necessities:
Food is always a good idea. I have a big sweet tooth myself, so I happen to give my guests brownies. Ha! But individual bags of crackers, chips, nuts, chocolate, candy… anything portable and good for snacking is ideal.  If fresh fruit is an option, think seasonal!
And don't forget the bevies! First, you need bottled water (especially if you're having a summer wedding).  If you want to get fancy- I happen to love fancy- mini bottles of wine, bourbon or champagne are always a hit.
I highly recommend also including some painkillers, chapstick, stain wipes, safety pins and mints/gum.  If I had it my way, every bag would also include some Broast coffee (a great local to  Cookeville, TN company).
Fun:
If you're planning to have a big ole party- think koozies, shot glasses, bottle openers.
If you want something perfect for the season, think scarves, fans, sunglasses, etc.  If there are children in your party , a few games, crayons + color books or little dollar store toys will be much appreciated!
I really believe in shopping local and putting personal touches on everything!
But I also love services that will create your bags for you (y'all know I'm all about saving you time)! I recommend Marigold & Grey (picture above from their site) because they will customize your boxes. #Winning! I also love Sweet Whistle – especially for the guys and Box Fox.
Since Martha Stewart is one of my favorite people ever, I have to include this article for you too- it is 102 Welcome Bags from Real Weddings.  It has some adorable inspiration and really lets you see how much fun you can have with this planning piece!